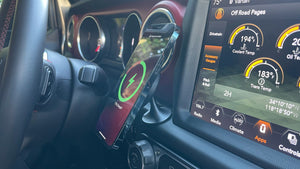 Our stylish charger that matches every car is here
Our Mission
We give you the power to charge any of your devices anytime, anywhere without the messy inconvenience of wires.
Don't just take our word for it
★★★★★

Love the idea and also the design. The only concern for me is that I need to clean the surface every 2 weeks otherwise the sticky pad loses its hold.

★★★★★

Easy to install, very Handy, charges well, sticks to flat surfaces without anything else, use the sticky pad where you don't have a flat surface, I have tried others, this one is the best one I have used!

★★★★★

Great products and the customer service is responsive and friendly. Can't ask for anything more than that!

★★★★★

This is a very well-made product that does exactly what it says it does. It holds your phone superbly as well as charging it. They have used premium-quality materials and the base holds tight! Definitely would recommend this to all my family and friends!

★★★★★

Really cool product. Works great. Works with my life proof case. Great customer service as well. Won't be disappointed with this charger/ mount.